Domestic EPC's from

£50+VAT
An Energy Performance Certificate is a legally required document which must be produced by a home owner / Landlord who is selling or renting a property.
These certificates display an energy rating for buildings based on its energy efficiency rating from A to G. An 'A' rating is a very efficient building, meaning lower fuel bills, while 'G' is inefficient, meaning higher fuel bills. The Certificate will also show the building's environmental impact by indicating its carbon-dioxide emissions.
Energy Performance Certificate

Display Energy Certificate

Commercial Energy Certificate
We have since expanded into other disciplines including Energy Audits, Renewable Energy Advisory Services, Air tightness testing and Thermal Imaging. We also provide Air Conditioning Inspection Certificates which have only recently been introduced. Fire Risk Assessments, Legionella Risk Assessments and Asbestos surveys can also be arranged.
DD Energy takes pride in providing an efficient and accurate consultancy service for both the general public and some of Northern Ireland's leading businesses.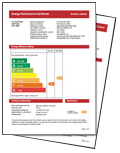 Energy Performance Certificate
We specialise in the provision of Energy Performance Certificates and Display Energy Certificates for buildings.
DD Energy Rating is the leading provider of Energy Performance Certification, our team of energy rating experts can carry out the necessary assessment needed to generate an accurate rating and regulatory compliance.